Adventist Church abuzz with news of world president's 11-day visit
Jamaican Adventists are feverishly fine-tuning plans to welcome their world president, Pastor Ted C Wilson, who begins only his second visit to Jamaica on February 1, 2019, at the head of a 200-member delegation representing four continents.
Pastor Wilson's delegation comprising Adventist church leaders from Asia, Africa, Europe and North America, will be mainly here to participate in the 12th Global Leadership Summit which unfolds at the Iberostar Hotel in Montego Bay from February 4-8.
The focus of this summit will be on healthy lifestyle and while in Jamaica, the leaders will immerse themselves in local communities in western Jamaica to promote healthful living as a lifestyle.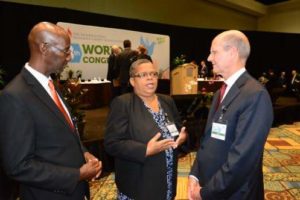 Unable to mask his pride at hosting the leader of one of the fastest-growing country denominations, head of the Seventh-day Adventist Church in Jamaica, Pastor Everett Brown said his flock was "excited and indeed honoured to have our world church president with us on this historic visit to Jamaica".
"We hope that their presence in Jamaica will motivate and encourage our members to be more involved in advancing the mission of Jesus and the wholistic development of the communities in which the church serves," he said in a press statement yesterday.
Pastor Wilson's team will miss a session or two of the seminar to throw its weight behind the local church's "Mission Project 2019", which was launched on January 8 in partnership with the Ministry of Health and its Jamaica Moves initiative under the theme "Wholistic Health for Personal and National Transformation".