On Monday October 17, 2022, 221 Jamaicans were recognized  for their contribution to Jamaica's development in various categories during the Ceremony of Investiture  and  Presentation of National Honours and Awards  at King's House in St.  Andrews and among them were seven  members of the Seventh-day Adventist Church in East Jamaica Conference.
Of the ten individuals invested with the Order of Jamaica by Governor  General Sir Patrick Allen,  one was  'The Honorable' Audrey Sewell (OJ)  of the North Street SDA Church in Kingston. She was recognized for distinguished contribution to the Public Service. Elder Sewell currently serves as a member of the East Jamaica Conference Executive Committee and has been a baptized member of the SDA Church since 1982.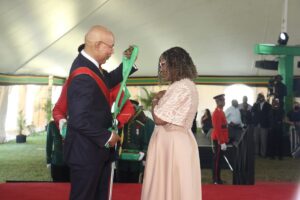 Sewell has been serving in the public sector for more than 40 years and has developed an impeccable reputation  in all the ministries she has served. Her journey   to being bestowed with the country's fifth highest honour was however not an easy road.  According to Sewell, there were difficult  times when she even contemplated quitting her  job.
"My journey was one where I experienced many challenges along the way. There were disappointments with various aspects of my life and there were times  when I felt so discouraged to the point that I thought about quitting my job and just starting all over again."
Life's challenges however pushed her into the arms of God  and over time  she saw the hand of God guiding her along the way.
" My faith in God has been strengthened day after day because I learnt along the way that when family, relatives and friends turn their backs on you, God will always be there with you guiding your path,"  Sewell shared  with  the EJC Communication Director after she received  her award.
"Be faithful to God and He will open the storeroom of blessings that there shall not be room enough to receive it," she  said in a bid to encourage people who might be facing challenges in life. "The blessings do not have to be monetary but we should spend time to recognize God's  blessings in our lives," she added.