ASI partners with EJC to promote evangelism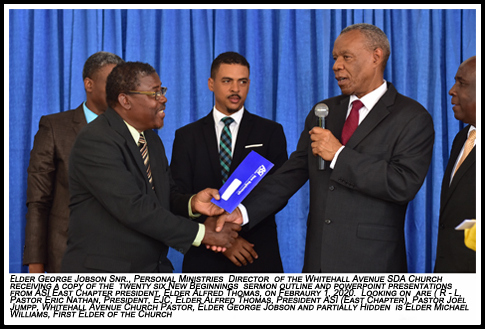 The East Jamaica Conference ASI chapter dedicated   software and hardware equipment to be used for evangelistic outreach at a special service held at the Whitehall SDA Church on February 1, 2020. The equipment was made available to churches through the kind sponsorship of ASI (East Chapter)  and include speaker boxes, microphones, projectors and a twenty six PowerPoint presentation and sermon outline in PDF format to boost the evangelistic capabilities of churches in the Conference.
President of East Jamaica Conference, Pastor Eric Nathan was upbeat about the new development from ASI when he addressed the church and commended ASI (East Chapter) president, Elder Alfred Thomas for the passion and enthusiasm which he brings to the leadership of ASI at this time.
 "What is happening here this morning is significant in that what ASI East Jamaica is doing, is providing for those persons who want to preach or want to share in small groups or who want to use their talents to enhance the gospel," Pastor Nathan  when he made his remarks at the special service.
"This to me is another sign of the coming of Christ," the Conference president said when he referred to statements by SDA Church co-founder and prophetess Ellen White who said the work of God on earth would be finished by the pastors and laity working together.
Elder Marston Thomas, ASI Inter-American Division President brought greetings on behalf  of ASI Inter America and  congratulated ASI East Chapter for their new initiative.
"On behalf of ASI in Inter-American Division, I just want to greet everyone and lend support to the East Jamaica Chapter of ASI in this new initiative that they are launching this morning.   We just want to
congratulate this team who are seeing that evangelism plays an important role in the development of God's church."