Over thirty persons at the New Creation Home on Osbourne Road in Kingston benefited from a gift of a variety of items including  soap, fabric softener, bleach, towels, rags, temperature gun, face shields, disposable  gloves, masks and medical gowns plus a walker from the Possibilities Ministries Department of the East Jamaica Conference of Seventh-day Day Adventists headed by  Pastor Sheldon Schooler. The items were handed over to the home on March 6, 2023 during a visit by Pastor Schooler and members of  his Possibility Task team as part of the JAMU Possibility Ministries Community outreach to public homes across the island on that day.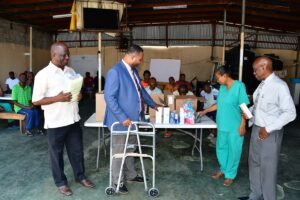 Supervisor at the home, Ms. Juliette Johnson was more than happy for the items and expressed gratitude to the visiting team on behalf of the home. "I would like to thank you all for these lovely gifts which are very much appreciated and I pray for you all God's richest blessings and look forward to us continuing this relationship," Ms. Johnson said when she gave the response on behalf of her staff.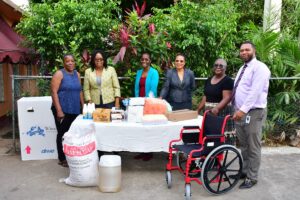 A similar visit was made to the Annie Dawson Home for Children (ADHC) where gift items including cooking oil, sugar, tin food, soap, bleach, rags & towels, temperature guns, face shields, masks, disposable gloves and a wheel chair  where handed over to  Ms. Ivaline Nickie, Executive Director of the Home on March 6, 2023. Annie Dawson Home for Children is currently home to twenty six girls and a little boy.