EJC President makes passionate plea for members to become engaged in soul winning
East Jamaica Conference president, Dr. Eric Nathan made a passionate plea for every member of the church to do all they can to win at least one member for the Lord in 2020. The top Adventist church leader in the Conference was addressing pastors, elders and local church leaders gathered at the Kencot SDA Church on February 1, 2020 for a special top level meeting in preparation for the upcoming Mission 2020 Reaping campaign   with international speaker Dr. Abraham Joules on March 21.
"Why we call on you here this afternoon is not just to make you uncomfortable to lead your church but we believe that if we can get more people to be engaged much more can be accomplished," the president said to his leaders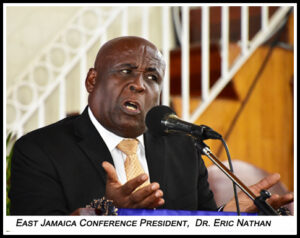 "I am marveled at the many people who care not if any visitor come to church. I marvel at the many people in church who care not if a soul is baptized. I am marveled at choir members who would sing good songs but would not make an effort to invite somebody to church," the president said as he urged church members to become engaged.
The president went on to make the point that if every church member
would work to win one soul for the Lord in 2020 then the results would phenomenal. He singled out several groups in the church including elders and choir members to make his point as he tried to convince listeners to become engaged in the business of saving souls.