April 12, 2023 | Trelawny, Jamaica | Libna Stevens, Inter-American Division News
Fireworks lit up the skies during the closing ceremony of the 5th Inter-American Division's Pathfinder Camporee in crowded Trelawny Multipurpose Stadium, in Trelawny, Jamaica, on Apr. 8, 2023. Nearly 10,000 Pathfinders, youth ministries leaders and chaperones attended the five-day camping event from Apr. 4-8, 2023.
The ceremony included 24 white doves released by children dressed in white as a sign of commitment by each of the 24 unions, or major territories, to be active in sharing the gospel of hope in every community across the Inter-American Division (IAD) territory.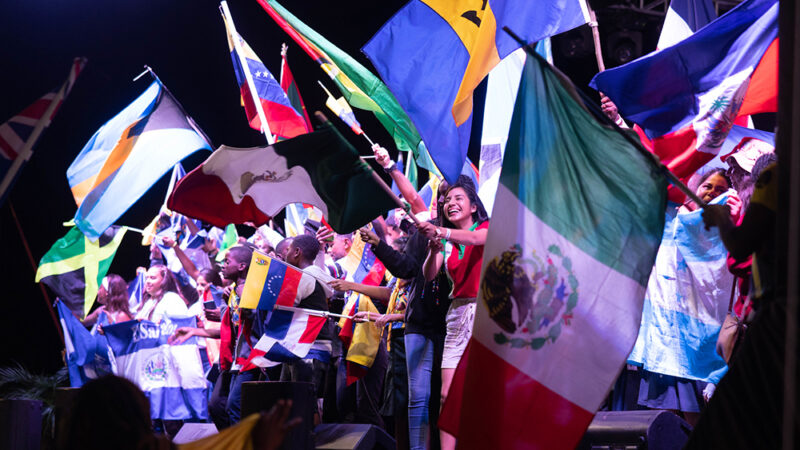 Passion for a life with value
"We have come to this moment when we must pull the curtains down on this camporee," said Pastor Al Powell, youth ministries director of the IAD and main organizer of the camporee. "We will not leave here the same because we have had a new vision, new experiences, a new desire and passion to live a life with value, to make a difference in our community to the people around us wherever we go, and whatever we do."
It's all about sharing the love of Jesus and preparing for this world and the world to come, said Powell. "This has been a memorable occasion and we thank God for who made this possible."  Powell reminded the more than 10,000 Pathfinders and youth leaders in the stadium to keep in mind that they are Pathfinders with a mission. "Go back home make things happen for Christ," he said.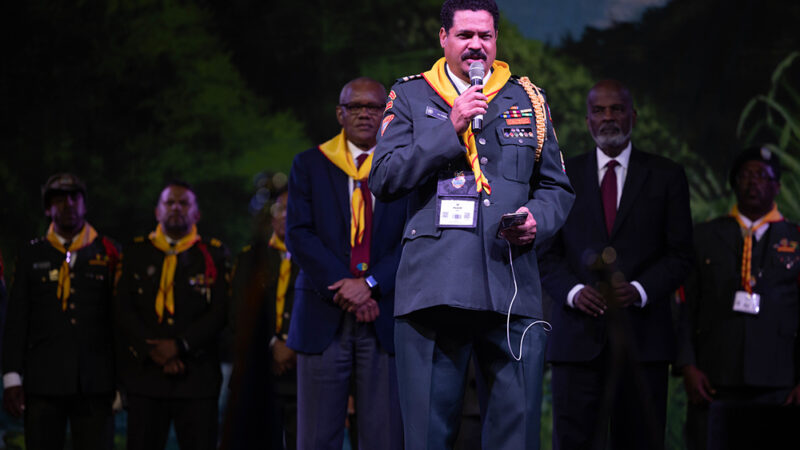 The three-hour closing ceremony followed a day that featured an investiture ceremony with more than 200 Pathfinders and Master Guides, two baptismal ceremonies that saw more than 60 Pathfinders baptized, and a large march that ended with music, drill events and spiritual messages in the town of Falmouth in Trelawny.
Strong and courageous like Gideon
Pastor Elie Henry, president of the IAD, encouraged Pathfinders to be strong and courageous just like those in the army of Gideon. "Rely fully on God and continue to be witnesses, growing in service in the community where you are."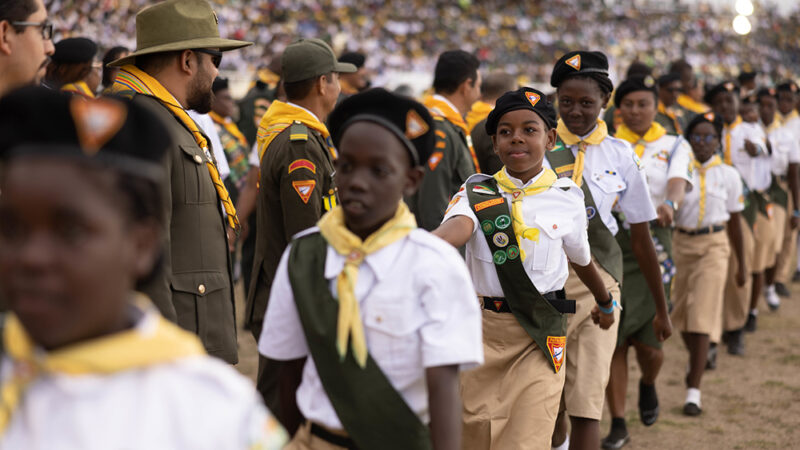 It's the end of a five-day journey that brought Pathfinders from different countries, churches and clubs all across the IAD and beyond, said Pastor Henry.  Pastor Henry praised the work of the Adventist Church in Jamaica and government leaders who welcomed with hearts wide open the delegations from 51 countries. "Thank you for opening doors to us before the event and our time here in Trelawny," he said. "We have witnessed how the church can work in harmony with the community."
His Excellency the Most Honorable Sir Patrick Allen, Governor of Jamaica, and former Seventh-day Adventist pastor, commended church leaders for empowering young people to effective witnesses for Jesus Christ.