Former West Indies Union Conference Workers Passes
In the height of the onset of the COVID-19 Pandemic the Jamaica Union Conference (West Indies Union Conference) lost one of its former workers. On April 14, 2020, Pastor Harold George Campbell, former ADRA Jamaica director passed away. He was 91.
Pastor Campbell, affectionally called "Mankind" was born in Linstead, St. Catherine. He entered denominational work in 1964 in the East Jamaica Conference where he served in the pastoral ministry, and was ordained on March 29, 1969. Among some of the churches he pastored were  Golden Spring, Penwood, Ephesus, Kencot, Washington Gardens and Trench Town. He then served in Lay Activities Department from 1976 to 1982.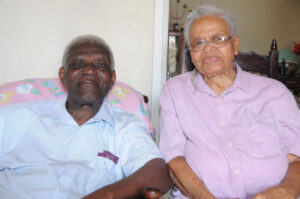 On October 1, 1982, Pastor Campbell accepted the call to serve as Seventh-day Adventist Welfare Services (SAWS) director at the then West Indies Union Conference. He served in that capacity until 1987 when SAWS was changed to Adventist Development and Relief Agency (ADRA) in 1987. He continued in that role at the Union until 2001 when he retired with the additional role of Community Services which was added to his portfolio in 1999.
The Service of Thanksgiving for the life Pastor Campbell was held at the Maranatha Seventh-day Adventist Church on April 26, 2020. He was remembered as a daring, practical and understanding person and his outstanding contribution to ADRA. His children remembered him as a family-man who placed much emphasis on the care, education, well-being and security of his family.
Pastor Campbell's body interred at the Oaklawn Memorial Gardens in Mandeville.   He died leaving three children:  Harold Jr, Paul and Gloria, and wife Pancha who passed to her rest on September 18, 2021 at age 85.
Mrs. Campbell was born in Slipe, St. Elizabeth, on February 11, 1936. She got married to Pastor Harold Campbell on December 12, 1965, three years after starting denominational work as a Bible Instructor in in the Central Jamaica Conference in September 1962.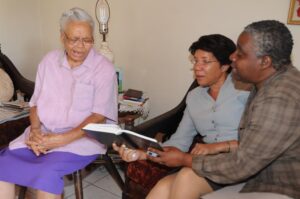 In 1966, she went over to the East Jamaica Conference to serve as Bible Instructor after which she went to the Andrews Memorial Hospital as a receptionist and in the Medical Records department until March 1983 when she was called to served as the Bible School Coordinator at West Indies Union Conference headquarters in Mandeville. She served with distinction in that capacity until December 31, 1999.
The Service of Thanksgiving for the life of Mrs. Campbell was held on November 18, 2021, at the Maranatha Seventh-day Adventist Church. She was remembered for her heart of gold filled with genuine love, kindness and care, her fervent prayer, and a "singer of exceptional merit"; the Del Delker of Jamaica.
Sis Pancha's body interred at the Oaklawn Memorial Gardens in Mandeville.
Pastor Campbell and Pancha will be missed by the Jamaica Union and Seventh-day Adventist family for their warm hospitality, kindness, care, and commitment to the work of God.