May 17, 2023 | Mount Salem, St. James | Nigel Coke and IAD Staff
The Seventh-day Adventist Church in Jamaica through its Food Bank has embarked on a partnership with a corporate distribution company, Derrimon Trading Ltd. (DTL), to assist them in feeding persons in need across the nation.
Food supplies valued at $35,000 US dollars were delivered through the five church regions in the West, Central, North, North East and East Jamaica for distribution for various communities, Apr. 25-28, 2023.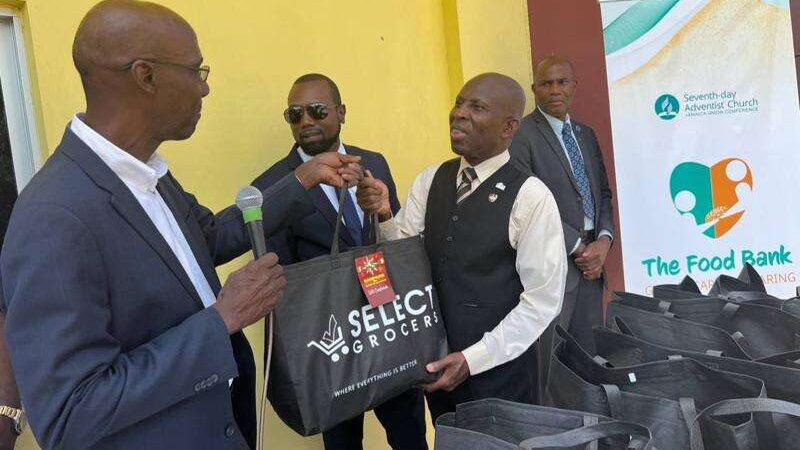 This is but a start of what we hope to be a great partnership with DTL, as we seek to help in alleviating hunger in our society," said Pastor Levi Johnson, chairman of The Food Bank and executive secretary of the Jamaica. "The plan is to do a distribution of food every three months and then as we get more contributions and support, we go monthly."
In addition to the church's regions, there was a distribution to Northern Caribbean University (NCU) and the Portmore Church for the Deaf, which are both operated by the Seventh-day Adventist Church as well.
"The humanitarian mission of the Church is one that I am deeply committed to and is embedded in the charitable ministry of Jesus," said Johnson.  "Being His hands and feet is awesome. I am passionate and at the same time humbled to help in the feeding of some of the most needy persons across Jamaica."
Leroy Dawkins, Channel Trade Manager for DTL pleaded other companies during a handing over exercise at the West Jamaica Conference headquarters in Montego Bay on Apr. 25, to get on board the feeding program with The Food Bank.