Jamaica Union Amends Constitution's Bylaws to allow for delegates to participate in person or virtually at future Union sessions
Delegates at a special session held on Thursday, October 28, 2021, unanimously voted to amend the Bylaws of the Jamaica Union Conference (JAMU) Constitution to allow delegates to participate in person or virtually at future Union Sessions.
The amendment does not mean that the session will be conducted virtually, but in the event that the COVID-19 Pandemic remains the same, or should future situations make it challenging to host a face-to-face session, the virtual option can be utilized, and can also be used along with face-to-face participation.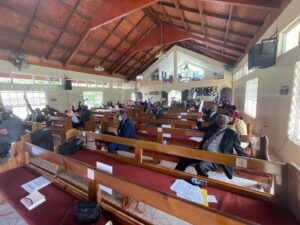 The JAMU Executive Committee on Thursday, September 30, 2021, voted to convene a special session on October 28,2021, with a total of 50 delegates drawn from the five Conferences, JAMU Andrews Hospital and Northern Caribbean University to vote the amendments.  
Prior to December 2020, the General Conference, through the Inter-American Division, gave permission to postpone the Session for a maximum of one year due to the COVID=19 pandemic.  This is in keeping with the Church's Constitution.  The Union Session was previously scheduled for December 2 and 3, 2020. 
The Jamaica Union Conference's Third (Second Quinquennial) Session, will be held on December 1 and 2, 2021 at Northern Caribbean University.