North Jamaica Conference Cops 2019 Bible and Heritage Quiz Awards
The North Jamaica Conference walked away with the 2019 Heritage Quiz Awards at the finals of this year's competition which was held at the Kencot Adventist Church on October 12, 2019.
The 5th staging of the event, organized by the Ministerial Department of the Jamaica Union Conference of Seventh-day Adventists (JAMU), saw the participation of the five local conferences after the eliminations, which took place locally between the churches of each conference.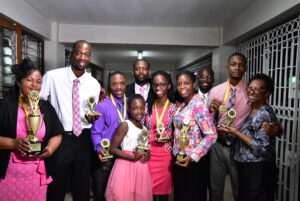 This year, participants were questioned on the book of Revelation chapters 1-12, chapters 11-15 of the Church Heritage Manual and the history of the Adventist Church in Jamaica. 
Second place went to  the defending champions, Central Jamaica Conference while the North East Jamaica Conference placed third. 
Ministerial Director of the Jamaica Union Conference and organizer of the event, Pastor Joseph Smith, shared with the attendees the history of the initiative.
"It was inspired by Ellen White's statement that 'we have nothing to fear for the future except as we shall forget the way the Lord has led us and his teaching in our past history". 
Smith also shared his concern of church members lacking knowledge of church history and the scriptures. 
"We have discovered that many of our members are not heeding the unction of 1 Peter 3:15, which states that we should be ready to give everyone an answer for the reason for the hope that is in us. We must get back to the state where Seventh-day Adventists people are known as people of the book".   
He also applauded the Conferences' ministerial directors for their participation in planning the event and formulating questions. 
Associate Secretary of the Jamaica Union, Mrs. Doreen Green, in bringing greetings on behalf of the Jamaica Union Administrators, expressed that the event has had the full support of the Jamaica Union leaders and staff. 
"The overall thrust of this exercise…is really to encourage our members to know the doctrines of the Seventh-day Adventist Church and be aware of our heritage. The sacrifices and commitment our forefathers made in spreading the gospel… to share their passion, carrying on the mission to its conclusion." said Grant.
Each team was strategically setup to have four individuals including a child under 13 years, a youth, an elder and any other person. This was to signify the passing down of the doctrines of the Church from generation to generation. 
The winners were awarded a cash prize as well as a trophies and medals. 
The Jamaica Union Bible and Heritage Quiz was launched in 2015 as part of the 125th Anniversary of the Seventh-day Adventist Church in Jamaica.