Partners in Ministry: Impacting the World Together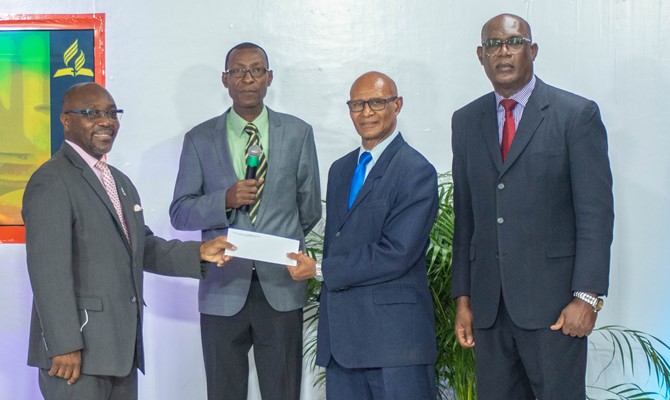 Jesus was clear about mission and discipleship when He said that the way persons would know His people are indeed His disciples, and not imposters, is when we have a genuine love for each other. Godly love was a rare commodity in His day, and certainly, it is in ours. 
Leveraging the blessing of godly partnerships, two local fields within the Jamaica Union Conference of Seventh-day Adventists (JAMU), Central Jamaica Conference (CJC) and East Jamaica Conference (EJC) demonstrate love and mission by assisting those in need. 
On Wednesday, November 11, 2020, representatives from CJC and WHEEL met at EJC headquarters in Kingston, Jamaica to present a cheque to EJC for US$10,000, a portion of funds donated to WHEEL to further the mission of Christ.
Dr Errol Bryce, a thriving Internal Medicine Physician in the United States, donated these funds as a way of giving back to ministries that have given so much to him in the past. Mr Michael Spence, WHEEL Board Chair recounts the following story: "In 1978, Bryce was in a club in Ocho Rios. Upon his return, he saw a letter inviting him to sell books in Canada to help him through medical school. Bryce had no money for travel and sought the assistance of the President of East Jamaica Conference at that time, who offered to pay his passage". For years, Dr Bryce has looked forward to a meaningful way to give back; and that he did. We value Dr Bryce's contributions, as they will go a long way to assist those in need.
Pastor Levi Johnson, President, CJC has led the charge in Central Jamaica, especially during the COVID-19 health crisis, with a ministry focus on love, compassion, care, and concern. This initiative is an outgrowth of this ministry focus.