Prayers answered for Mandeville Regional Hospital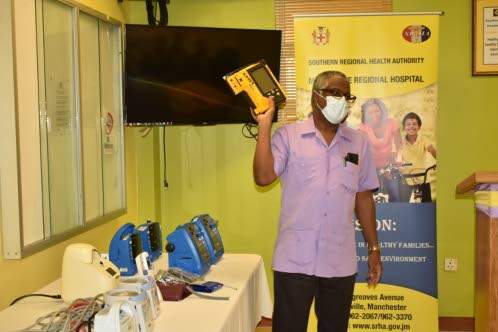 BY KASEY WILLIAMS | Staff reporter | kaseyw@jamaicaobserver.com |
MANCHESTER— Life-saving equipment, including vital sign monitors and an oxygen concentrator valued at $2 million, were recently donated to the Mandeville Regional Hospital by south Manchester native and chief of the Department of Medicine at the North East Georgia Medical Centre in the United States, Dr Pete Williams.
Williams partnered with the North East Georgia Medical Centre, the GSI foundation and the Central Jamaica Conference of Seventh-day Adventists to import the equipment which was handed over to the hospital last Thursday.
The GSI foundation is a registered charity organisation which is operated by the Jamaica Union of Seventh-day Adventist (JAMU), to assist its churches and institutions to import goods on a duty-free basis or accept tax-exempt donations on items to be used for the public's benefit.
Dr Daniel Fider, who represented Williams at a handing-over ceremony, spoke of the latter's philanthropic efforts.