Students challenged to stand for principle and righteousness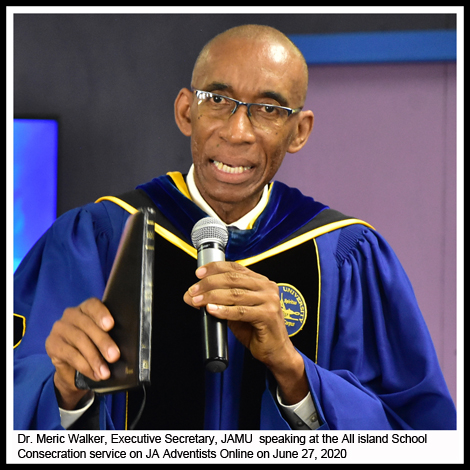 Confronted with closed schools, fear and concern for Covid-19 coupled with government issued constraints on assembly, conference administrators, pastors, teachers, students and church leaders in the Seventh-day Adventist Church in Jamaica hosted its first virtual Service of Thanksgiving and Consecration to God. Educators and students alike gave thanks to God for His leading in the church's educational system despite the challenges.
With the aid of technology through the church's JA Adventists Online virtual church platform, hundreds of students from the 27 Adventist operated schools across the island participated in the consecration service which was held under the theme Navigating the new normal with Christ.  The service was held on June 27, 2020 and was coordinated by the education department of the ­­­Jamaica Union Conference.
"As the new norm threatens with immorality on every side, students, I say to you stand on the word of God, do not vacillate in the pool of popularity but stand for principle and righteousness," said Dr. Meric Walker, executive director, JAMU, who challenged the students to remain true to the values they had been taught at their institution of learning.  "Once you remain faithful the Lord who is the principal of the universe will exalt you in due time."