St. Ann's Bay, St. Ann…Nigel Coke
Nineteen year-old Kimani Roache scored 880 points, answering 71 of 80 questions to cop first place in the Jamaica Union Conference (JAMU) Bible Connection finals held at the Seventh-day Adventist Church in St. Ann's Bay, St. Ann, on Sabbath, November 5, 2022.
The win gives Roache the right to represent JAMU in the finals of the Inter-American Division Bible Connection final scheduled to take place on Sabbath, November 19 at the Seventh-day Adventist Conference Centre in Mount Salem, Montego Bay.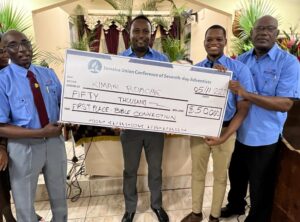 Roache, who represented the North East Jamaica Conference (NEJC), won in an impressive 4 minutes 36.7 seconds ahead of Gem Brown of North Jamaica Conference who scored 875 points in 9 minutes 01 seconds, and Tiffany Lawrence of the East Jamaica Conference (EJC) with 830 points in 8 minutes .01 seconds. Although Gem Brown answered 72 of the 80 questions correctly, some questions had greater weight, and timing was also essential in scoring.
A first-year Medical Technology student at Northern Caribbean University (NCU), Roache was somewhat surprised at his achievement.
"I was very shocked at first because although I put out my best and even though I knew I did my best, I didn't expect to win," said Roache. "Hearing my name being called for first place was really a blessing and I am happy that God has brought me to this point. It has always been my dream to win the Bible Connection."
Each of the participants was presented with an 8" Samsung Tablet, while the winner and runner ups (second and third) received cash prizes of $50,000.00, $30,000.00 and $20,000.00, respectively. A part of the experience and prize each year is an all-expense paid trip to the finals wherever it is being held in the IAD region. Because the IAD finals will be held in Jamaica, Roache will receive an all-expense paid weekend at the Holiday Inn and Spa in Montego Bay, Jamaica.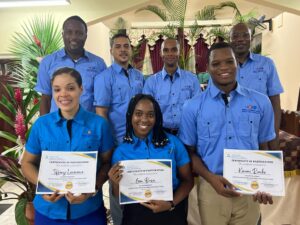 "I hope that the Bible Connection would have inspired all those who participated in the process to the extent that they will change the world," said Pastor Dane Fletcher, Youth Ministries Director at JAMU. "As we seek to increase participation, we will incorporate the Bible Connection within our weekly Advent Youth Services."
"We hope that next year's cash awards will be greater, as it literally pays to study the Bible. While not every participant receives cash awards, we hope that the study of the Word will strengthen the connection of our youth with Jesus, so that ultimately by His grace they will receive the gift of eternal life," Fletcher added.
Prior to going to NCU, Roache was an active member of the Clermont Seventh-day Adventist Church in St. Mary and held positions such as Assistant AY Leader, Deacon, Assistant Pathfinder Director, among others.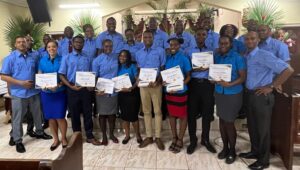 Youth Ministries Director of the NEJC, Pastor Raymond Douglas, had high praises for Roache whom he believes is an example to other young people.
"He is a very committed youth," said Douglas. "He is very involved in the Church and is a very reliable person. He is an example to young people."
In his parting words to other young people Roache said "Trust in the Lord always. Continue to fear God and whether it is spiritually or academically, God will lead you through it as long as you fear Him and keep His commandments."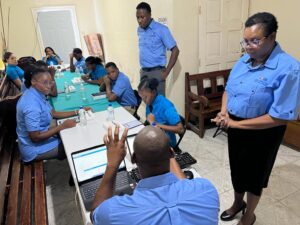 Administrators, directors and other workers from the JAMU and Conferences attended the afternoon's programme.
The Bible Connection is executed in a non-competitive environment, where participants input responses electronically, aiming for speed and accuracy.